So I was going to do a mini tutorial on Paper Piecing for all you quilters. I made my first paper pieced square last week and today I made my second – this time following my own pattern.
Here is a pic from the one where I followed my own pattern:
It isn't bad, but definitely not perfect. That is why this is a NOT Tutorial Tuesday. I didn't feel as though I could put up a tutorial for something I am still trying to master.
It is my goal to only give my readers tutorials on things that I can answer questions on, and right now the only question I could answer would be: "Is a seam ripper a handy tool to have around when paper piecing?" The answer, at least when you are new to it, is YES!!!
So instead of a tutorial, I am going to give a sneaky peak to my gift exchange partner of what is coming her way in the next week.
No, not this block! It is terrible and I wouldn't feel good about sending it. What I made though uses both of these fabrics and several more and there is a star quite similar to this one in the project (that would be attempt number 1 following someone else's pattern, and yes, that pattern was better than mine, WAY better!).
Are you participating in the Handmade Gift Exchange going on over at Craftaholics Anonymous?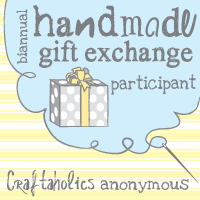 I hope you are getting excited Staci from Just Sew Sassy blog, because I sure am!
Here's where I'm partying this week: