I hope everyone had a wonderful Christmas surrounded by loved ones and friends. My family had a very blessed Christmas – it is the first time my entire family has gotten together all in one room since my wedding four years ago. It was a very special day.
Anne got exactly what she asked Santa for, a bike and a helmet.
It will be awhile before she fits it properly, but in the meantime she can learn at our weekly trips to Kinder Gym.  She also got Lego Duplos. Usually the hubby and I try to do more educational gifts, but we decided that we give her educational things all year round and this Christmas we would do things a little different.
Boxing Day is the day after Christmas (today) and is celebrated throughout the United Kingdom and parts of Canada. In the British Military it is when officers and enlisted change positions for the day – it helps to boost morale.  Some fun boxing day suggestions – trade places with your kids for the day – safe activities only (you use the stove and of course do all the driving), but let them see what it is like to be a parent and make the decisions.  I imagine it would be a great lesson and it is something we will definitely try when Anne is older – probably teenage years.
I will be taking the rest of the week off and I will be back on January 2nd. I am participating in the It's Sew Kiki About Town Bee.
And I will also be participating in the SewHappyGeek QAL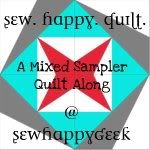 Tomorrow I am meeting my blogging friend Dawn_in_CA. I am so excited to meet her in person. We are going to go to a few local quilt shops and have lunch, my mom and Anne will be joining us. Wednesday will be a day of packing and Thursday will be our travel day.
I hope you all have a wonderful New Year celebration and I will see you all next year!
NOTE: Don't forget, I am one of the bloggers who is going to lose Google Friend Connect in March 2012, please take a moment and follow me via Bloglovin', Facebook, RSS or networked blogs.  You are important to me and I want to be able to stay in contact with you!  Check my side bar for all the best ways to stay in touch after GFC goes bye bye!