Here we go! The final count down of the year. 24 days until Christmas and 30 days until a whole New Year begins. Congratulations if you have made it this far and linked up with us! Double Congratulations if you have completed your goals! Triple congratulations if you have linked up AND finished at least 6 times because that means you will be eligible for our end of year party! WOOHOO!
In the meantime, we need to set goals for December. Mine is pretty simple. I just want to start my Disney Mini Quilt project for a swap I am in over on Instagram. It is due to mail January 15th. Wish me luck! Here is my inspiration:
You have two requirements to be entered into the prizes this month.
1. Link-up the first 7-days of the month
2. Link-up in the last 7-days of the month.
Add your blog post or flickr photo (with appropriate descriptions) to the linky party below.
Please grab a button or link back to Shanna and I so other people can join in the fun!
**Please note, the linky party is the same here and over at Shanna , so there is no need to enter twice **
Here is a list of our generous sponsors for December!!
1. Green Fairy Quilts – 3 pdf patterns
2.PDF Pattern from Persimon Dreams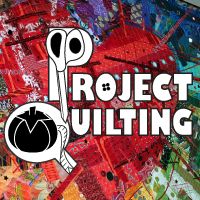 3. $15 gift certificate from Fat Quarter Shop
4. One pdf pattern from Sew Sweetness
5.Thread Prize from Aurifil
6. One Charm pack or $10.00 gift certificate to
Stitches n' Giggles (winners choice)
9. Sew BitterSweet Designs one pdf pattern