I finished my February goal and I increased my clothing sewing abilities!  I am super excited about the hoodie I made Anne and the best part is…she is super excited about it too!
I took Anne down by the water in downtown Olympia and we did a little photo shoot. She was shockingly cooperative, so naturally, being the super proud mommy that I am…I took as many pictures possible of her.  She opted not to have ears and horns on the hoodie after seeing it in this state.
She got really into posing for me!
A view from the back.
Showing off the awesomeness that is her new hoodie!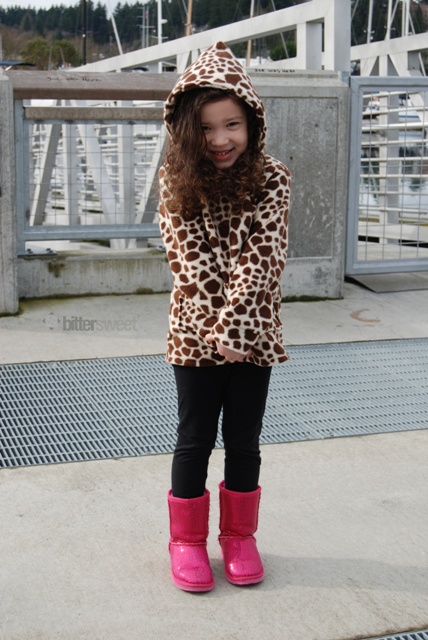 Does it get much cuter than this?!?
Imaginary Balance Beam
This is the end of our shoot, I told her we could go ride bikes and she took off running!
Pattern Details: Modified Charlie Tee & Hoodie by Fishsticks Designs
(my modifications include removing all knit fabrics and using fleece only, also, I removed the bottom band to allow more freedom of movement.)
Pattern Sewing Level: Advanced Beginner
Would I recommend this pattern: Yes, a couple steps I had to re-read several times, but I got the whole hoodie together in one day!
Materials – Blizzard Fleece from JoAnns
Model – my precious Anne
There you have it! A completed February Finish – make sure you link up your finish here!
This was one of my goals for the Finish-A-Long Q1 with Katy from The Littlest Thistle. You can see my goals here.