Happy Monday everyone! I know, you are all thinking, "It is Monday, what's happy about it?!?"  Well, as I have said countless times, every day is a holiday when you live in Toddler Land. There are no Mondays or Saturdays, there are just days.  Shoot most of the time I only know what day it is because we have an appointment. Thank goodness for my Blackberry or I would be very lost!
This weekend Anne and I put the finishing touches on her desk/dresser and got it moved up into her room! I am so excited to share it with you, but that will have to wait until tomorrow. First I want to show you how we got to the finished product!
Here is the dresser in all it's ugly glory! Now someone pointed out to me that it wasn't ugly, and really it wasn't, it just wasn't what I wanted for Anne's room. The stain was a bit too dark for my tastes.
Step one in the make-over process was to clean out the dresser. I had to be careful with this step and think it through. It was mostly filled with yearbooks from the Mister and me. There were also several photo albums, I wanted to be sure everything was stored in a way that nothing would get ruined. I decided to put the albums on the bottom shelf of my cookbook bookcase (say that 10 times fast!) and the yearbooks went into a tote.  Now I decided to think ahead about how heavy everything was going to be and the fact that I am not the strongest lady ever and came up with an ingenious moving idea!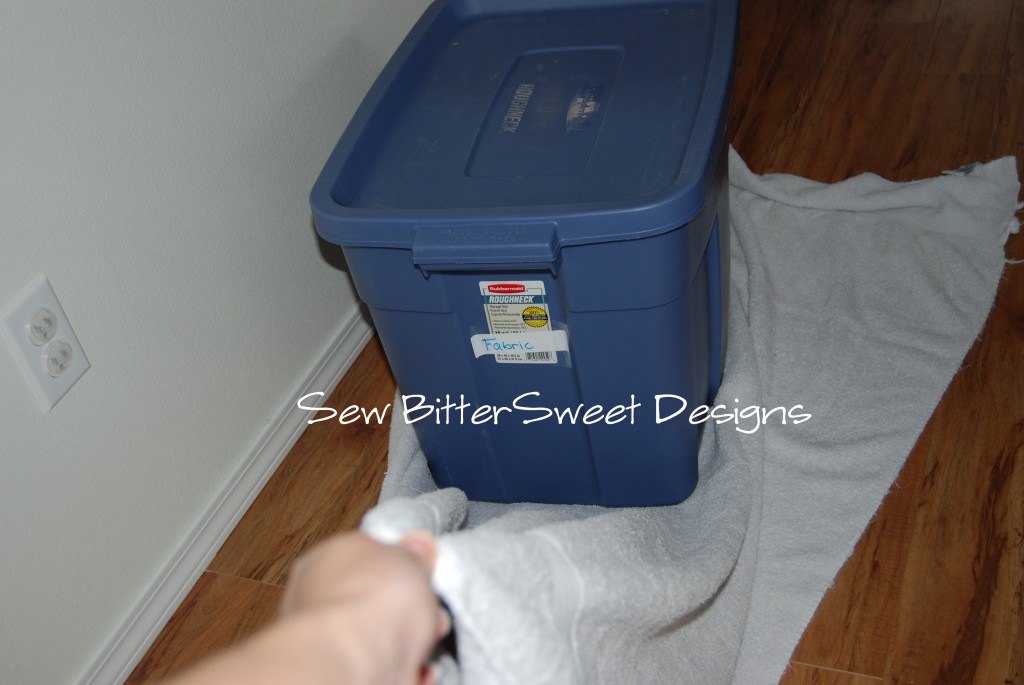 I grabbed a super old ratty towel and put the tote on top before I started filling it up. Then I could just drag it across the room to the garage. It spared my floor from scratches and my back from aching!
Next up, I had to remove all the child safety locks – time to break out the hair dryer! And of course, Anne just had to help mommy 🙂
Here's the desk all clean and ready to be moved on the towel, just like the heavy tote above.
Here's the dresser with all the hardware removed and ready for painting! Now, I have to admit, that aside from taking all the hardware off and getting a drop cloth, I really had no idea what to do next, I was fairly certain I would need to sand everything, but luckily I was informed that it was not necessary!
So I headed to my friendly neighborhood Lowe's and told them my plans for the dresser. I even brought one of the drawers with me in case they wanted to see it! They set me up with a drop cloth, primer, 2 different types of paint (I'll show you why there are 2 tomorrow), paint brushes, and a roller. Then Anne picked out the new hardware she wanted for the drawers. Now I will say that they sold me the wrong kind of paint for what I had planned at the end, but I decided to make lemonade from lemons and I am even happier with the end result. I'll tell you more about that tomorrow!
We got the dresser all primed and I, um…got really into my work…
I had to do 3 coats of the latex glossy white that I picked out for the dresser, so I did one coat a day last week before it got to hot. It was the first thing we did every morning before breakfast even. Here's Anne getting in on the action!
My real proud moment in all of this was figuring out how I was going to paint the desk part of the dresser. I removed it because I did it in 2 different colors (you'll see why tomorrow). I remembered that when we built our fence last year my dad and I bought 2 sawhorses and I busted one out.
This saved me a lot of headaches and probably spilled paint too!
Come back tomorrow and I will take you on a tour of Anne's room and show you the finished dresser in all it's glory!
And now in other news, did you see that Sondra from Contemporary Cloth is having a huge sale AND giveaway? You can even win one of my BitterSweet Bundles! Go here to check it out! Also, don't forget to enter the giveaway I am hosting for Fat Quarter Shop!
Make it a great day!