I am so excited to announce that I will be co-hosting my first every QAL with none other than Jen from Sew Happy Geek! We have teamed up to create this newly designed quilt just for you!
The quilt is fairly straightforward, however, the woven blocks can present a bit of a challenge. This quilt will definitely stretch your skill set. We will be presenting you 2 different methods for assembling the woven blocks, regular piecing and paper piecing, try out both methods and decide which one works best for you. The finished quilt without borders is 60×60, with borders is 65×65.

How to Join: All you have to do is head over to Flickr and join the Sew Intertwined QAL Group. We are going to take our time with this QAL, you will have until September 6th to get your quilt top into the Flickr group to be eligible for prizes.
Fabric Requirements AND Prizes:
For my version of the quilt I am using Stockholm by Robin Singone for Robert Kauffman. My fabrics were provided by the lovely Sondra of Contemporary Cloth and she is providing all of your with 20% off your fabric for the QAL with code: SewIntertwined!


You will need five 2/3 yard cuts (these are my orange, pink, green, leaf, and multi-color), 1 yard cut (Daisy Janie gray print) and 1.75 yards of background fabric.
We have arranged discounts AND prizes from you at some of our favorite fabric shops!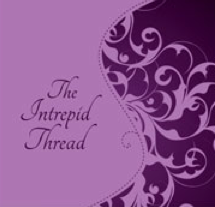 Intrepid Thread – 20% off your fabric – Julie has a custom listing set up for this QAL. She is also offering a $50.00 prize!

Contemporary Cloth – 20% off your fabrics with coupon code SewIntertwined. She is also offering a FQ Bundle prize to one of the winners!
Quilting Lodge – 20% off your fabrics with code SIQAL20. They are also offering a Layer Cake as a prize!
Stitches 'N Giggles – 10% off fabrics your fabric with code qal2012 good through July 31st. She is also offering a Fat Quarter Bundle of Riley Blake's Chevrons as a prize!
Eclectic Maker (UK)- 10% Discount Code available for one use – QALGEEK,

Pink Castle Fabrics: 15% off Discount Code – SEWINT15

Superior Threads - $30.00 gift certificate
Winners will be selected randomly from those who have completed their top and uploaded their photo into the Flickr Group by September 6th!
Schedule:
16 July: Quilt Design and Requirements - on SewHappyGeek and SewBitterSweet Designs
26 July: Dresden Fan Tutorial by Jen Excell of SewHappyGeek
6 August: Outside blocks tutorial by Melissa of SewBitterSweet Designs
16 August: Woven blocks tutorial. Paper piecing technique by Melissa of SewBitterSweet Designs and traditional piecing technique by Jen of SewHappyGeek
27 August: Joining the blocks by Melissa of Sew BitterSweet Designs and border by Jen of SewHappyGeek
6 September: Last day to enter completed quilt top into the Flickr group
7 September: Prizes awarded! Yay!
Make sure you head over to SewHappyGeek to read more and join the Flickr Group (introduce yourself while you are there!)!