I have had so many wonderful people in my life come to our side and aid since my hubs deployed to Afghanistan. The support of all my wonderful twitter and facebook friends, all of my wonderful blogging friends, you have all touched my heart in so many ways.
One of my wonderful friends that I met through a group on facebook, Jessica, sent Anne the most touching gift. Jessica owns and operates Noguchi Designs. She makes clothes, dolls, toys and recently got into quilting.  She emailed me right before my hubs left and said that she wanted to send Anne a deployment present. I had no idea what she was going to send and she just blew me away!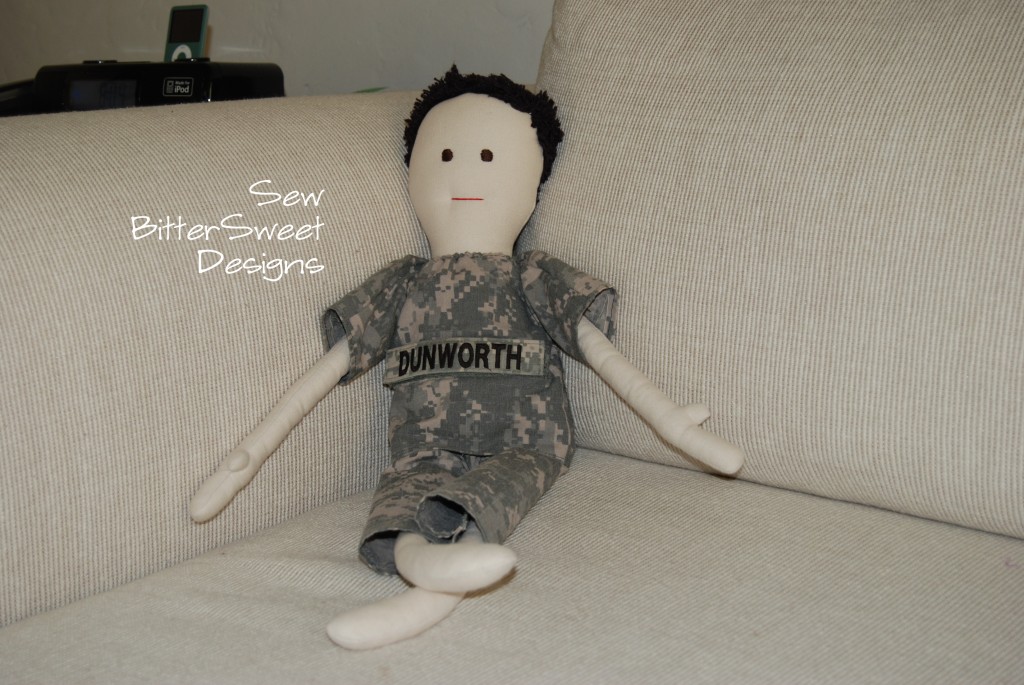 This is a Bubba Doll.  He didn't come with the name tape – we happened to have an extra one at my parents house (don't ask me why, I'm not really sure why it was here).  His uniform is made from an actual ACU top and it even has a pocket in the back so you can put a picture of daddy in there.  He came with his own birth certificate and care instructions. All that aside, he just made my baby girl's day!
Anne and her bubba doll have been inseparable. Since he arrived. They nap and sleep together.  They even play angry birds together.
Thank you to everyone for all of your support this past month, we are at 34 days and counting.
Today is the last day to enter the Fat Quarter Shop giveaway for a layer cake of Quilt Blocks – make sure you head on over and do that! I will be closing the comments later tonight and announcing a winner tomorrow morning before we head back home to Washington.