No Work It Wednesday this week because the only thing I am working on is packing and cleaning my house for our big move next Friday. And let me tell you, keeping an 18 month old happy and entertained when you have packed 80% of her toys is NOT an easy job!
Making a packed up situation brighter 🙂
One of my favorite new blogs to follow is One Month To Win It.  This is a seriously fun crafting competition that goes over four weeks.  So far my favorite challenges have been the Under $5 Challenge from Season 3 and Wall Art from Season 2.  The bloggers who have competed are INCREDIBLY talented and have served as a major inspiration for me!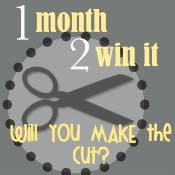 If you think you will "make the cut" today is the last day to audition over at Country Chic Cottage.  Head on over all you incredibly talented bloggers and followers!
I have recently fallen in love with a new concept that I found on 15 Minutes Play.  The main concept behind this blog is to MAKE FABRIC.  How cool is that?!? The idea is that for 15 minutes a day as a warm up you sew scraps of fabric together at different angles and you cut them and sew them back together.  You are making your own fabric out of other fabric.
They are holding a challenge over on their blog to create 10 blocks from their "blocks of the month".
The entire concept of "making" fabric is Victoria Findlay Wolfe's, she is a quilter with an art background.  Her personal site, where she does sell her quilts, is Bumble Beans Inc.  I encourage you to go check out both the 15 Minutes Play site and her personal site.
Are you a fellow blogger? Do you host giveaways on your site?  Do you just like entering giveaways?  I am all of the above and I found a seriously cool site that has a linky party every week for giveaways!  Craft Buds is a collaboration blog of Lindsay Conner from Lindsay Sews and Mary Jaracz from Bugglebee. They post tutorials, like the one today for this beautiful Diamond Quilt:
In addition to all this is the giveaway linky.  If you like entering them or just want to get more exposure for one you are hosting, you should really head over and check it out!
What has caught your eye this week?