Last night was our monthly meeting for the South Sound Modern Quilt Guild and it was a fun one! In September everyone who wanted to brought in baggies full of their scraps and traded with someone else. The goal was to make a swap gift for someone using that persons scraps (kind of guaranteed they will, at the very least, love the fabrics).  There was no limit on what you could make.
When I got my bag all I could see was white fabric. I was initially a bit scared, what was I going to do with just WHITE! My partner though was stealthy, she hid all of her colors inside a nice wide strip of white, lovely oranges and grays. Here is what I made: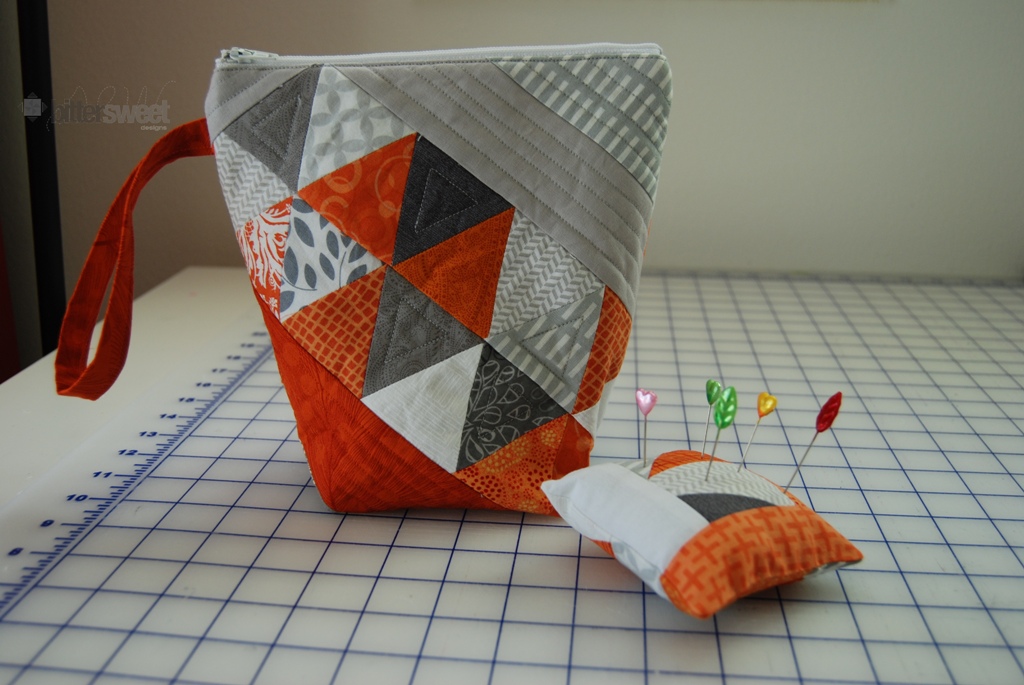 I have a ton of orange and gray scraps too, so I added some from my stash. My partner made it so easy on me, she said she didn't have a zippered pouch and her pin cushion was in need of updating. Voila!
I made the pouch using a QAYG technique, with no pattern or tutorial, just made it up as I went. The pin cushion I just sewed together all of the scraps. I had so much fun making this. If you want a tutorial for the pouch let me know, I will happily whip another one up, it won't be exactly the same, but you will get the general idea of how to make it.
The awesome part though was when we got to give our gifts, the ladies in this group are just so crazy talented! It was amazing to see what they made with scraps! Heather from Creative Blessings had me and she clearly did her homework! She got me down to a tee.
I felt so incredibly spoiled! She got me my favorite fabric line (Simply Style) and a gorgeous mug rug and cup cozy with a little coffee set! She even gave me some extra flying geese and hexie templates!
This card (which I didn't read until this morning) truly touched my heart. Heather is incredibly talented with making cards and it made me feel so special to receive one of hers!
And this notebook cover! She designed it herself and could she have gotten my style any better?!? Hexies and flying geese! My two favorite things!
I think Heather needs to do a tutorial for this! It is truly an awesome design. It even has a pouch for sticky notes and a pencil! LOVE LOVE LOVE!
As Heather said in her card, this guild has filled a need in her life that she didn't know she had, and she is so right for me too. I had no idea who much starting this guild would mean to me, but it truly has been the most amazing experience! Thank you so much Heather!