Happy Friday Everyone! Only 9 days left until Christmas – have you finished your sewing and shopping yet?  I am mostly done – still need to take care of Anne and my dad.
If you want to get me something special you can start at The Intrepid Thread!  Julie carries some of the best fabric lines available and constantly has new lines rolling into the shop.  The last 2 weeks alone she had NINE lines hit the shop!  Can you believe that?!? I swear – if I owned my own fabric shop I would be in sewing heaven.
I had the pleasure of meeting Julie when I was home in CA last month, she lives not to far from where I went to college.  We had a nice lunch and Anne promptly fell in love with her.  She is a wonderful spirit and a pleasure to work with. I ordered some yummy Rendezvous from her on Black Friday and it was at my doorstop the next Monday – all wrapped up in tissue paper, with a bow and a handwritten note.  Julie always goes the extra mile.
Here is a just a small taste of some of the yumminess that hit her shop this month:
And my personal new favorite:
I know what I want for Christmas, do you?!?  Well how about I give you a chance to make your Christmas fabric wishes come true?
Julie is offering one of my readers a $25.00 gift certificate to her shop, The Intrepid Thread, good for anything in the shop!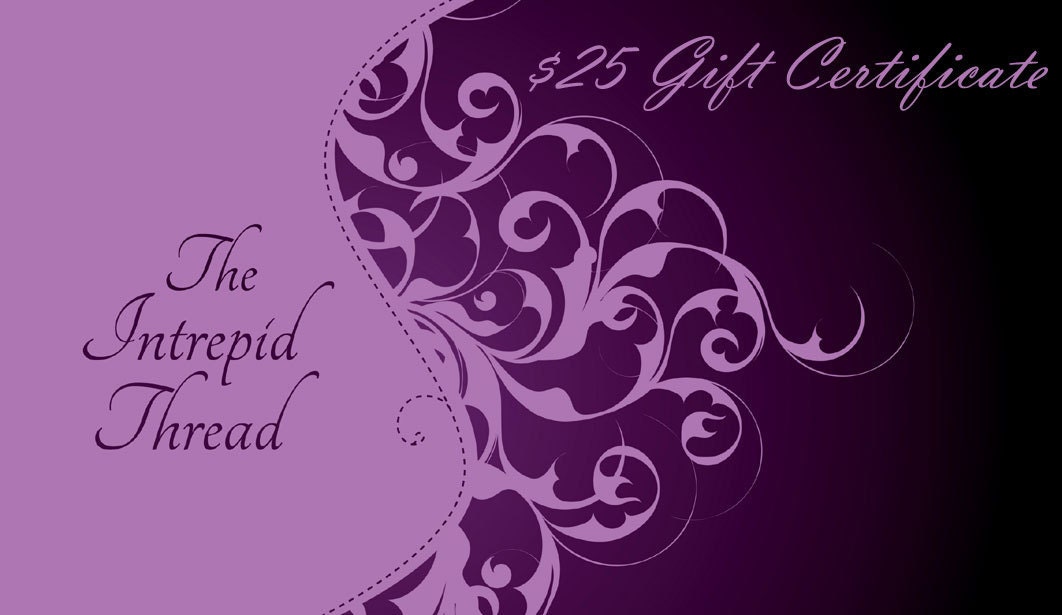 Does that sound like something you might like to have for Christmas?
You must be a follower of my blog to enter
1. Go to The Intrepid Thread shop and tell me what you would buy if you won (1 Entry)
2. Spread the word – blog, tweet or facebook about this giveaway, leave me a link (1 Entry)
That's it! Two possible entries. I will leave this giveaway open until Friday, December 23rd and I will have the plugin And the winner is… pick the winner. I will announce the winner on Christmas Eve – someone is going to have a little extra something in their stocking this year, will it be you?
Good luck!
NOTE: Don't forget, I am one of the bloggers who is going to lose Google Friend Connect in March 2012, please take a moment and follow me via Bloglovin', Facebook, RSS or networked blogs.  You are important to me and I want to be able to stay in contact with you!  Check my side bar for all the best ways to stay in touch after GFC goes bye bye!