Sarah at FairyFace Designs is hosting a list for all of us crafters on what our plans are to finish for the next 4 or 5 months.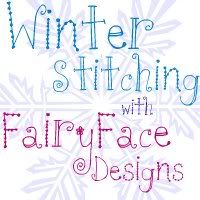 Here is my list:
I have 5 quilt tops that need to be basted, quilted and bound.
Finish my Bottled Rainbows quilt
Design 2 new quilts
Learn how to use EQ7 (I've had the software for 1.5 months and haven't used it all yet!)
Make 4 mug rug Christmas Gifts
Valentine's Day Projects: pillowcase dress for Anne, sewn handmade cards for the grandparents & hubby
Set of 4 place mats for my kitchen table
Baskets for my sofa table (4 small & 4 large) – I need to find the right fabric for this (may try mod podge for the first time on this project!)
I have 2 stockings to finish for Lyanna at Purple Panda Quilts
My monthly swap & bee blocks – I am committed to 5 per month right now
My final Pay It Forward gift
I would really like to make stockings for my nieces and nephews too…but I'm not really sure that will get accomplished
Publish my quilted pouch pattern – pictures later (they are trapped on my camera right now!)
What is on your list?